The Revolutionary Way To Roast
Oven safe, fast, easy, & attractive with endless creative possibilties!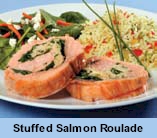 Better Tasting Results
RoastWrap uses JetNet's oven-safe, high-quality elastic netting. The netting holds the contents securely and maintains uniform pressure surrounding the roast as it shrinks during the cooking process, assuring optimal heat transfer and better tasting results by eliminating voids and retaining maximum moisture and flavor.
Easier and Faster Application
In the professional kitchen, speed and quality are important. Hand tying can be time consuming; requiring both skill and concentration. Using RoastWrap, the netting slides on quickly and easily—ready for the oven. RoastWrap is so easy, netting the prepared roast can be confidently delegated to others.
Uniform, Attractive Results
With RoastWrap your product will have a consistent, attractive appearance to help assure customers of its quality time after time. We believe netting imparts a more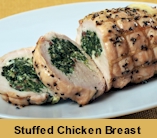 attractive pattern and appearance to the final result than hand tying, which favorably influences customer perception and satisfaction.
Many Delicious Uses
RoastWrap can help you stay competitive. You can do things with RoastWrap you can't do any other way. Like wrapping the outside of the roast with bacon to add extra flavor. Try a delicious stuffed eggplant or zucchini roll for vegetarian dishes. Use it to roll beef, chicken, pork, fish, or lamb—anything that can be stuffed or wrapped can be used. You are limited only by your creativity!
Affordable
RoastWrap is priced competitvely as an alternative to string or trussing loops. The added benefits of speed, ease of application, improved quality and appearance, and expanded utility makes RoastWrap an unbeatable, essential tool for the professional kitchen.
For more product information and a video demonstration go to
RoastWrap.com
The Revolutionary Way To Roast
Now everyone can prepare fabulous meals like a professional chef!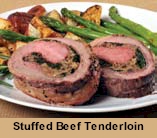 Roast Like a Pro
RoastWrap makes it possible for the home cook to make roasts filled with fabulous stuffing just like professional chefs. It opens the possibility for unlimited new recipe ideas. The home cook can impress guests with fancy rolled roasts that look difficult but in reality are "a snap."
Easy to Use, Better Results
RoastWrap eliminates the difficulty of trussing or tying. Just roll the roast in the SnapWrap™ plastic sheet, slide the netting over the wrap, then snap and remove the SnapWrap. You now have a netted roast ready for the oven—it's that simple. The netting will maintain even pressure around the roast and securely hold its contents resulting in more uniform cooking, better taste and appearance.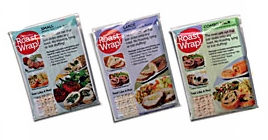 Everything Needed
RoastWrap comes in two sizes: Small, for 1-4 lb. roasts and Large, for 4-8lb. roasts. A Combo Pack has one of each size. Each inexpensive package includes everything needed to make two roasts: Netting for two roasts, two SnapWrap sheets, plus full instructions, ideas and recipes.
For more product information and a video demonstration go to
RoastWrap.com
The Revolutionary Way To Roast
Roast Wrap, the oven safe net that just slides onto any roast!